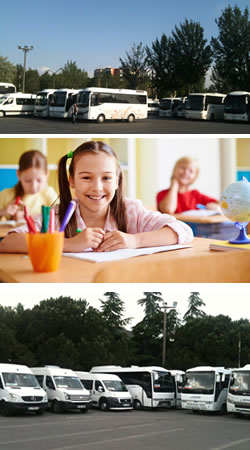 Student Handling for Günalp is a special service and special responsibility with a separate prescription. Günalp Turizm, who is aware of this responsibility, keeps the security of our future children ahead of everything else. Guaranteeing the safety and comfort of our children before and after school is one of the most important services for transportation sector for Günalp Turizm. Our service vehicles are also only some of the superior service and personnel equipment of our effective protection systems, automatic opening doors, educated hostesses vehicles.
Our primary goal in student service; From the first moment that they have moved away from their homes, to a new sun without feeling the lack of their parents. Because we know that a happy beginning is the basis of a productive day.
Your child will be picked each morning from the specified address at the specified time. At school exit; Except when they are in extraordinary circumstances such as closure of roads and excavation work.
If the time has come before the service hour, wait for the hour to expire. If the student does not arrive by the hour, the guide goes to the reception point and checks whether the student has come.
After the student is waiting for 3 minutes, the vehicle moves.
The pupils are delivered by the parents or carers to the shelter from the most appropriate place where the service can be placed. In turn, our students are certainly surrendered by their parents or carers.
No one but the student and the teacher can be taken on the service vehicle.
The service driver and guide staff do not inform the car that the vehicle has come by opening the phone, stealing the horn or stealing the bell. It is the responsibility of the driver to be at the reception point of the appointed hour to prepare the student to ride the service 5 minutes before the given time.
If the student is to be taken by his or her parents or if he / she will be taken by the school-leaving parent, the service driver will be informed.
In case of any malfunction, we ensure that our backup vehicles are switched on. There is no such thing as not taking a student.
If the student leaves another adress on the same vehicle's route, the service driver will be notified in writing to the school's transportation manager if another adress is left on the route of the different vehicle.